Seeders
The right technology for every application – that's our motto. That's why we offer different
seeder versions with varying functions to meet almost any requirement. The table below gives you an overview of what's on offer.

ACCURATE SOWING.
Two different controls are available for the seeders. The ES 8 Standard and ES 8 Turbo can be operated intuitively thanks to the tried and
tested "Standard" control. This allows the seeder to be easily switched on and off from the cab, the spread rate to be continuously adjusted
and a calibration test to be carried out.
The SEED.CON control module works wirelessly and is compatible with all seeders. The user-friendly interface on your own smartphone or tablet makes the control even more practical and simple. All settings can be made either from the cab or directly on the seeder. Further advantages of the SEED.CON control are the possibility of speed-dependent regulation of the spread rate as well as additional operation via an ISOBUS terminal.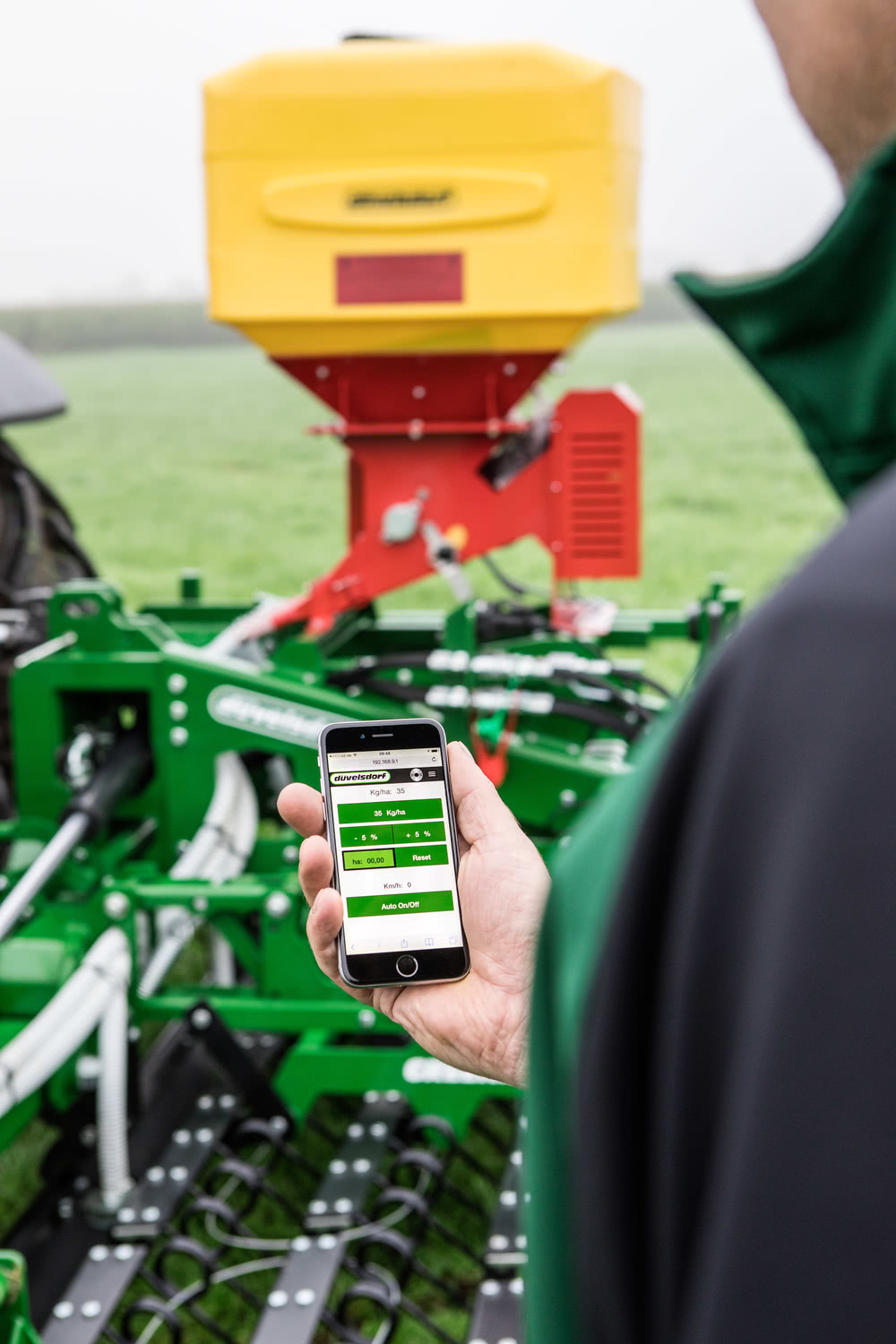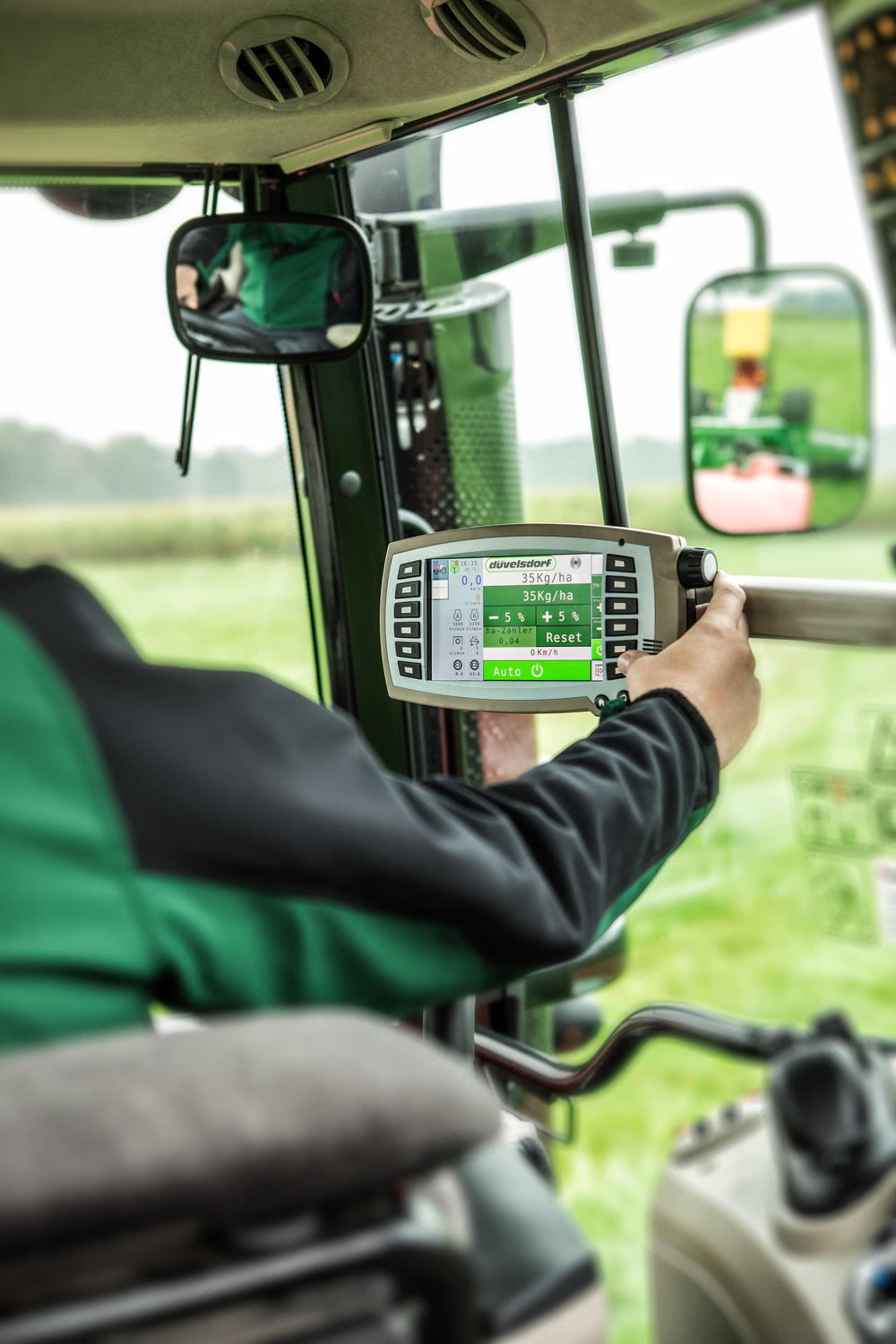 The SEED.CON control's intuitive user interface makes setting your
seed drill particularly convenient.

OUR SEEDERS AT A GLANCE:
Function
ES 4 Standard
ES 8 Standard
ES 8 Turbo
Lehner Vento
HS 8 Turbo
HS 12 Turbo
Control module:
Profi
Profi

Profi /

SEED.CON

/ Profi Speed
Vento/

SEED.CON

SEED.CON

SEED.CON

Blower:
Electric
Electric / single

Electric / double
Electric
Hydraulic
Hydraulic
Power input:
10A
10 A
25 A
40A
5 A / 25l/min
5 A / 25l/min
Outputs:
4
8
8
8
8
12
Hose diameter:
30 mm
25 mm
30 mm
30 mm
30 mm
30 mm
Rotating flap:
Yes
Yes

Yes
Yes
Yes
Yes
Weight in kg:
35
50
65
67
110
150
Tank size in litres:
130
300
300
230
300
500
Dimensions LxWxH in mm:
600x500x1350
650x900x1300
900x650x1350
9191x527x1199
1250x650x1350
1250x700x1660
Max. working width:
3 m
6 m
6 m
6 m
8 m
9 m
Standard seed shafts:
25 mm
15 mm
15 mm / 25 mm
15 mm / 25 mm
15 mm / 25 mm
Suitable for:
grass seeds + all small seeds
grass seeds + all small seeds

grass seeds + various intermediate crops

all seeds
all seeds

all seeds

THE ADVANTAGES OF OUR CONTROLS AT A GLANCE:
Standard

SEED.CON

Control via:

Standard terminal

Smartphone or tablet (wireless via WLAN)

Alternatively via ISOBUS terminal


Optional feeler wheel:
-
Yes

Seed rate adjustment:
Regulated from the cab


Speed-dependent seed rate

Regulated from the cab


Automatic switch-off on headland:

Yes

Yes
Calibration:
Via bottom flap


Via bottom flap and collecting tray

Particularly convenient as the machine's control unit is portable


Integrated hectare counter
-
Yes

Articelnumbers at a glance
Maschine


articelnumber
Seeder ES 4 Standard
2618160
Seeder ES 8 Standard

2618050
Seeder ES 8 Standard

SEED.CON



2618005
Seeder ES 8 Turbo
2618064
Seeder LEHNER VENTO
2410100
Seeder ES 8 Turbo

SEED.CON



2618066
Seeder HS 8 Turbo

SEED.CON



2618068
Seeder HS 12 Turbo

SEED.CON

2618088
accessories


articelnumber
Feeler wheel/tail wheel

GREEN.RAKE

expert 3 m

2619360
Feeler wheel/tail wheel

GREEN.RAKE

expert 6-9 m
2619970
Feeler wheel/tail wheel

TERRA.ROLLER

expert

2630590
Feeler wheel/tail wheel

GREEN.RAKE

combi/classic
2618090
Conversion to tractor meter cable

2618310
Feeler wheel/tail wheel

GREEN.RAKE

expert 3 m LEHNER VENTO
2410630
Feeler wheel/tail wheel

GREEN.RAKE

expert LEHNER VENTO
2410600
Conversion to tractor meter cable with radar sensor

2618320
Filling level sensor incl. installation for initial installation

2618020
500 l Ttank for ES/HS 8 Turbo

2618069
ISOBUS-Terminal A3 incl. cable and holder for

SEED.CON

2618092
ISOBUS-cabel 9-pin for various terminals
on demand