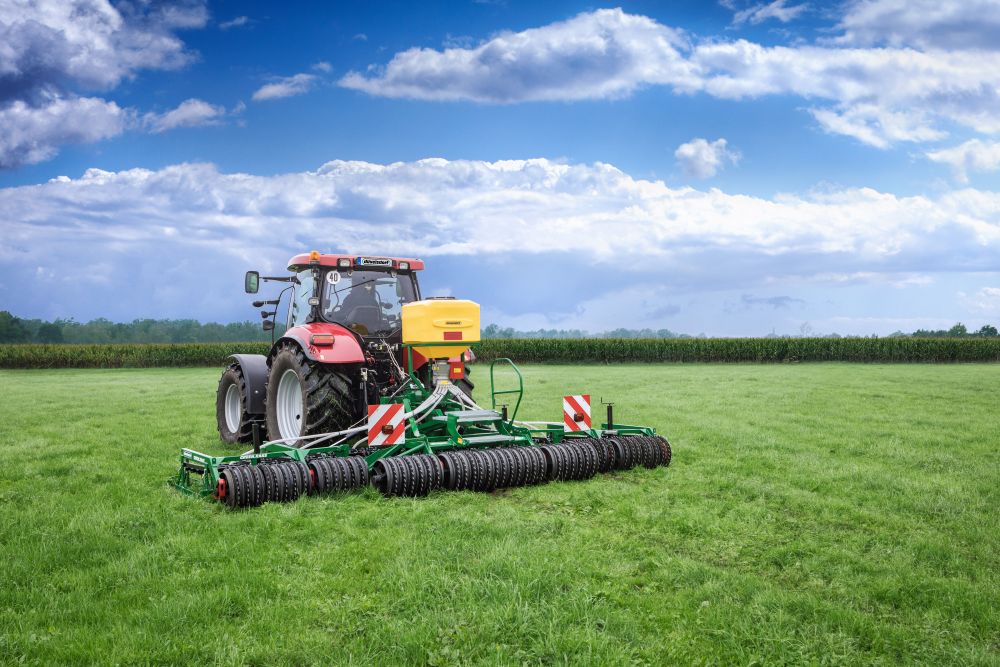 GREEN.RAKE

combi
POSSIBLE APPLICATIONS:
Raking out of weeds with simultaneous reconsolidation of the soil

Pressing the seed down for the best possible soil contact

Complete springtime grassland maintenance in one operation

Intercropping in autumn

COMPACT GRASSLAND MAINTENANCE. 4 in 1.

Levelling, raking, sowing, rolling – with the GREEN.RAKE combi you can do it all in just one operation. Despite its scope of performance, it's the
combination machine's compactness that stands out. Three rows of rakes built into a robust frame make the GREEN.RAKE combi not just sturdy, but easy to pull and manoeuvre as well. The easy three-point attachment is particularly practical.

In addition, the height-adjustable tine section guarantees a perfect working pattern. By integrating a larger number of rake tines than the GREEN.RAKE classic, the GREEN.RAKE combi provides even better soil aeration. The tines are arranged at a distance of 65 mm and thus help to intensively rake out matted grass and weeds. The GREEN.RAKE combi is especially recommended for grassland maintenance in spring and
for intercropping in autumn.

Articlenumbers at a glance

Machine
productgroup
Article­number

GREEN.RAKE

combi 3 m Cambridge Ø 460 mm

26
16300

GREEN.RAKE

combi 3 m toothed ring

26
16350

GREEN.RAKE

combi 4,5 m Cambridge Ø 460 mm

26
16450

GREEN.RAKE

combi 4,5 m toothed ring

26
16460

GREEN.RAKE

combi 6 m Cambridge Ø 460 mm
26

16600