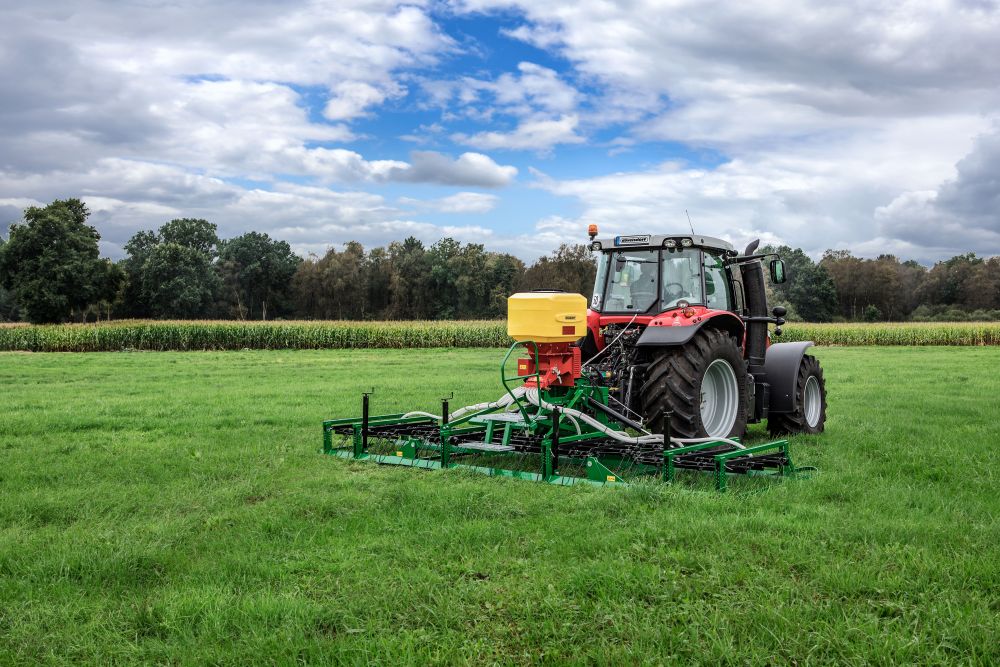 EXEMPLARY MEADOW CARE.

The GREEN.RAKE classic's outstanding feature is the double levelling bar. This allows even better levelling of unevennesses such as molehills or damage caused by wildlife. The bar glides over the ground and allows you to work on damp or marshy surfaces without damaging the grass. The intensity of the rake pressure can be set via the height adjustment by means of spindle and hole pattern. There is also the option to equip the GREEN.RAKE classic with two to four skids.

GREEN.RAKE

classic
The GREEN.RAKE classic offers the highest level of comfort. Its four-row tine section ensures maximum permeability and minimum risk of clogging. As with all düvelsdorf products, the choice of materials for the GREEN.RAKE classic was made with great emphasis on sturdiness. For this reason a robust frame was used.

Technical data
| | |
| --- | --- |
| Working widths in m | 3 / 6 / 8 |
| Weight in kg | 560 / 1000 / 1100 |
| Number of tine rows | 4 |
| Tine spacing in mm | 75 |
| Tine diameter in mm | 10 |
| Transport width mm | 2930 / 2980 / 2980 |
Advantages
Robust frame

Adjustment of the rake intensity

Tine loss protection

4-row tine section

Sturdy 10 mm tines

Articlenumbers at a glance
Machine
productgroup
Article­number

GREEN.RAKE

classic 3 m

26
17300

GREEN.RAKE

classic 6 m
26
17600

GREEN.RAKE

classic 8 m
26
17800
Machine
productgrouo
Article­number
Tread

GREEN.RAKE

classic

26
18100
Skid
26
18200
Lightning set LED

26
18110